S shaped High Quality anti-UV Football Soccer Artificial Turf, SDS-5007 A+B
Product Detail
Product Tags
Item

Artificial Grass for

Football Playground

Material

UV resistant PE monofilament + PP curly fiber

Dtex

10

,5

00, or as customized

Gauge

3/

4

 inch, or as customized

Stitch rate /meter

200

0, or as per request, range from 120 ~ 280

Density /sqm

1

0500, or as customized

Color

A

pple green / dark green / white

Backing

UV-Resistant PP Woven +

Net or

Non

-

woven Fabric

Coating

SBR latex mixture

Certificate

CE, REACH, UV 5000 HOURS, NSCC, ISO...

Packing size

1x25m, 2x25m, 4x25m, 1x3m, 2x5m or other as per customized

Delivery time

Normally within

3

~15 days from deposit arrival
- Carpet size as per field drawing, rolls wrapt by PP cloth.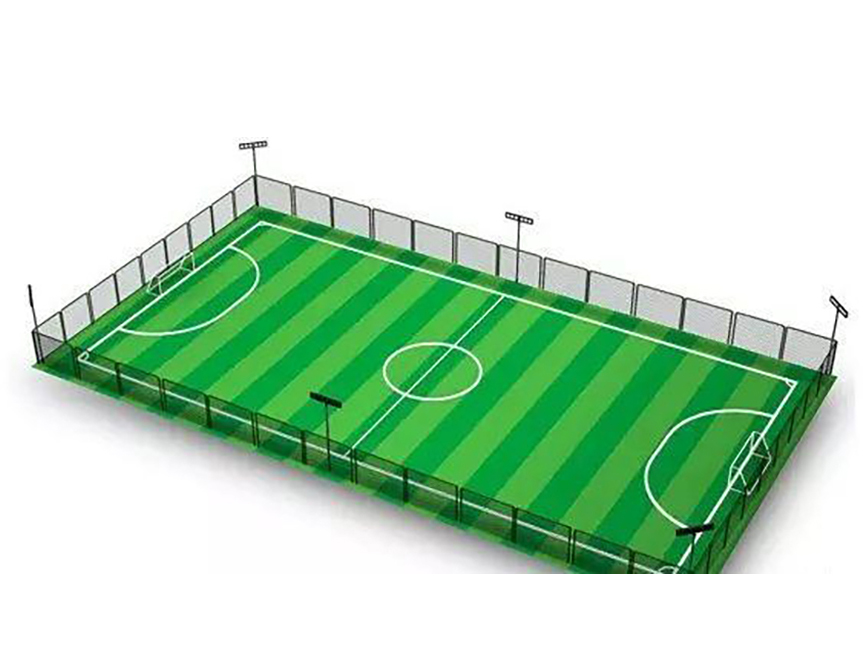 Artificial turf, ideal material for all kinds of sports fields
Artificial turf is the ideal material for all kinds of sports fields
Artificial grass has the highest density of turf on the market. Its excellent elasticity and traction make it an ideal material for all types of sports fields. It is recognized by many world class athletes as one of the best ground materials for reducing foot and knee injuries.
Man-made turf is widely used in baseball, football field, football field, hockey field, softball field, track field and other sports fields. It is also the ideal turf for playground, practice field, physical education class, military training and other indoor and outdoor activities.

Artificial turf material environmental protection, surface layer can be recycled, is the natural lawn can not be replaced. Compared with natural lawn, artificial lawn has more obvious advantages.
All-day weather: completely free from the influence of weather, greatly improving the use efficiency of the site, and can be used in extreme weather such as high cold and high temperature.
Evergreen: Artificial grass can still bring you the feeling of spring after the natural grass has entered the dormant period.
Environmental protection: all materials meet the environmental requirements, artificial lawn surface can be recycled.
Simulation: the artificial grass is the use of bionics principle of production, lawn directionless, hardness, so that the user in the activity of the feeling and in the natural grass there is no big difference, good elasticity, comfortable feet.
Durability: durable, not easy to fade, especially suitable for high frequency of use of primary and secondary school sites.
Economy: simple construction, can be laid in asphalt, cement, hard sand field, basically no maintenance costs.
For different outdoor venues, the choice of artificial turf materials is different.
Generally speaking, there are two kinds of synthetic turf materials: polypropylene and polyethylene. Polypropylene material artificial turf solid, buffer force is small, generally suitable for the impact of less sports items. The artificial turf made of polyethylene has soft texture, good cushioning performance and little damage to athletes. It is suitable for sports with large impact force, such as football and rugby, etc.
Artificial turf can also be made by mixing the two materials, so that the advantages of both can be combined to meet the needs of special competitions.
Installation of football soccer artificial turf
1st stage: preparation before installation
Make sure all rolsl of artificial turf, all other accessories (glue, rubber granule, sand...), tool and equipment for installation are ready on site. The temperature should be remained above 10℃;
2nd stage: field measurement
Mark the boundary line of the field and locate the lines based on the drawing of the field.
3rd stage: installation
a.Put seaming tape under the backing of artificial turf, where it is jointed by two turfs.
b.Use tool to cut the edge of artificial turf and match the line of two turfs, the distance of two turfs should be under 2cm.
c.Joint and stick two turfs on seaming tape.
d.Flatten the jointing section of two turfs and make it fixed.
e.Use equipment to fill quartz sand and rubber granule in all areas
f.Use grass comb machine to comb the turf, and make rubber granule to spread even and smooth.
4th stage: inspection
a.Installed in marked ground lines, the color of artificial turf should be exactly the same.
b.All the jointing parts are flat and fixed accordingly.
c.No bumps on each jointing section.
d.Sand and rubber granule are filled into the field, well-proportioned and flat.
e.Test and field according to local standard of artificial turf installation.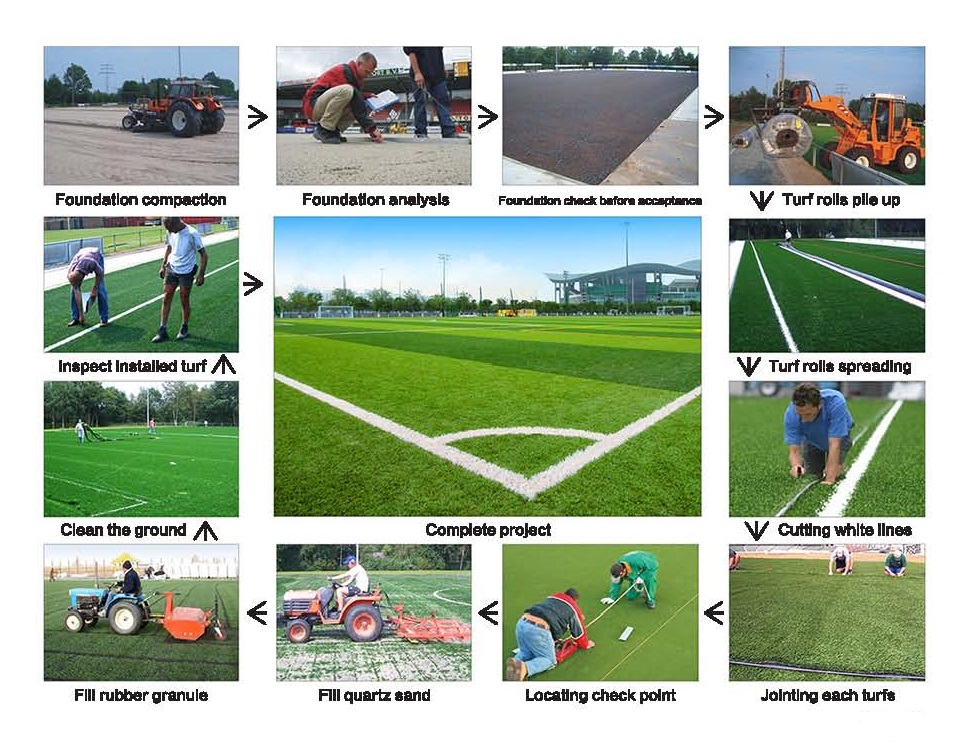 ---
Previous:
Durable Labsport Certificated 40/50/60mm Artificial Grass for Futsal Soccer Football, DS-5002 A+B
---
Write your message here and send it to us