Durable Labsport Certificated 40/50/60mm Artificial Grass for Futsal Soccer Football, DS-5002 A+B
Product Detail
Product Tags
Item

Artificial Grass

for

Playground Football

Material

UV resistant

100%

PE monofilament

Dtex

8,8

00, or as customized

Gauge

3/

4

 inch, or as customized

Stitch rate /meter

20

0, or as per request, range from 120 ~ 280

Density /sqm

1

0500, or as customized

Color

A

pple green / dark green / white / red

Backing

UV-Resistant PP Woven +

Net or

Non

-

woven Fabric

Coating

SBR latex mixture

Certificate

CE, REACH,

LABSPORT

, NSCC, ISO

9001, ISO14001

...

Packing size

1x25m, 2x25m, 4x25m, 1x3m, 2x5m or other as per customized

Delivery time

Normally within

3

~15 days from deposit arrival
- Carpet size as per filed drawing, rolls wrapt by PP cloth.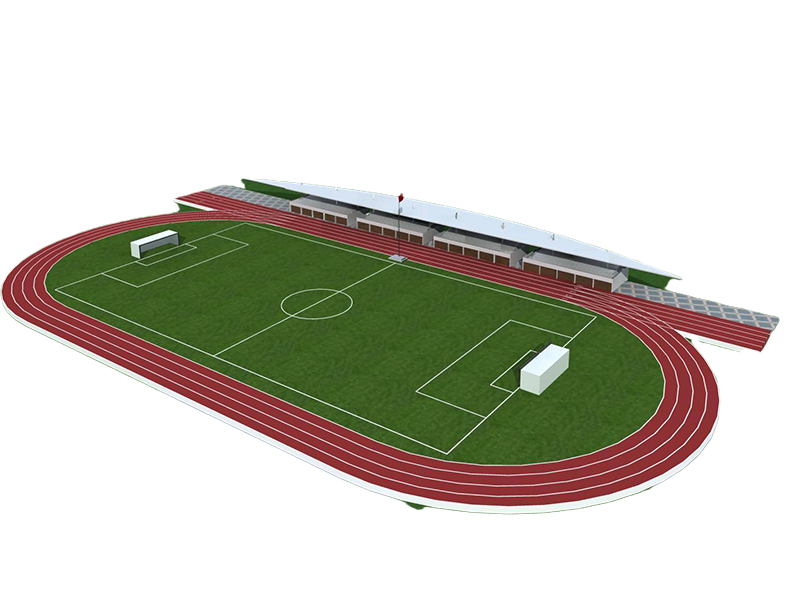 Advantages of artificial turf on football fields
1. It can be installed on various base surfaces. The quality of the foundation is not high, not afraid of cracking.
2. Artificial grass is easy to maintain, low maintenance cost, can be washed with water to remove dirt.
3. Shape like real grass, green feeling, variety is complete, grass length can be selected according to the actual use.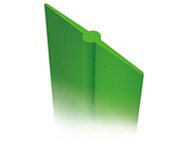 4. Artificial grass sports field has beautiful overall layout, high utilization rate, and its service life can reach more than 10 years. It is durable, easy to maintain and can be used all day long.
5. Artificial grass environmental protection, finished product construction, fixed construction period and short time, simple acceptance, do not need too much professional knowledge.
6. High utilization rate, shock absorption, no noise, safety, non-toxic, elastic, good flame retardant performance, etc. It is very suitable for schools to use as a training and competition area.
7. Artificial grass adopts the concept of safety protection to avoid sports injury. It provides sufficient cushioning, reducing the damage caused by the feet of the ordinary hard surface, so that you do not have to worry about the field.
8. All materials meet the requirements of environmental protection, and the surface of artificial lawn can be recycled. The original waste soil and sand are used for foundation laying, which conforms to the principle of waste reduction and the principle of using natural materials.
9. The foundation cannot be combined with the surface layer. When the service life of the surface layer expires, it only needs to replace the surface layer, and the cost of reinvestment is low. Made of resin fiber and polypropylene fiber, artificial football turf has the advantages of good elasticity, anti-aging, wear-resistant, colorless, convenient laying, convenient maintenance, fast drainage, easy cleaning and so on. At present, it is widely used in sports fields of large, middle and primary schools, sports clubs, and some sports venues with large flow of people and high frequency of use.

Installation of football artificial grass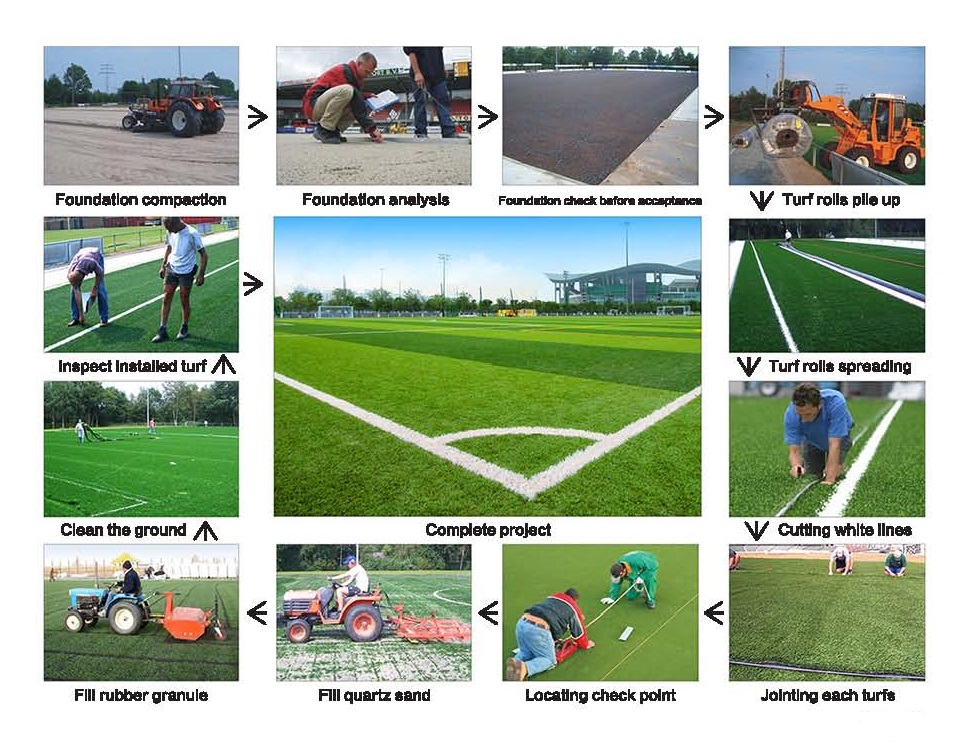 1.Recheck the dimension of field and make sure it is accordant with the drawing, remove all existing on the base and make sure it is smooth, hard and clean. Apply 5mm-1cm gravel sand if base is not available, if it is concrete flooring, it is better.
The temperature should be remained above 10℃。
2.Use tools to find the center point of field and then determine all the other points according to drawing.
3.Place all grass rolls in the right position as field drawing, roll out in lengthwise direction one by one, make sure all grass rolls are in good quality and right color, and yarn fiber keeping in the same direction.
4.Overlap 2-3cm between joint parts of two carpets, cut it away to make sure the seams are closely aligned.
5.Place 30cm width joint tape along the seams, coat glue on the tape and grass backing of two sides.
6.After around 10-25 mins, when glue getting sticky, seam two carpetson the joint tape. Notice: try to finish seaming all at once to make sure good seaming to support longer life time.
7.After all green grass seamed, according to the marks for white lines, cut the green grass away, put 30cm width joint tape, coat glue and then put white grass, fix.
8.Clean up the field and fill quartz sand evenly on the grass in a suggested quantity, to make the flooring flat and compacted, and yarn fiber keep standing.
9.Cast rubber granule in the same way on the quartz sand in a suggest quantity. After all infilling finished, check the field and make up accordingly if any missing.
---
Previous:
New Arrival China Panoramic Padel Court - Panoramic Type Factory Direct Sale 10x20m Paddle Court Padel Tennis Court – LVYIN
---
Write your message here and send it to us